Flat washers have a thin, flat, circular shape with a central hole for a pairing nut, screw, or bolt. They are used to anchor the fastener in place and keep it from pulling through the material it is attached to.
CAD files for stock and standard flat washers are available for download in MW OnDemand.
Flat Washers Overview
MW produced National USS high-strength stainless steel flat washers which are made of 17-7 precipitation hardened (PH) stainless steel and heat-treated to Rockwell C40-48 hardness. These flat washers provide the strength of heat treatment and the corrosion-resistance of stainless steel and can be used in environments where regular, well-plated steel, cannot survive.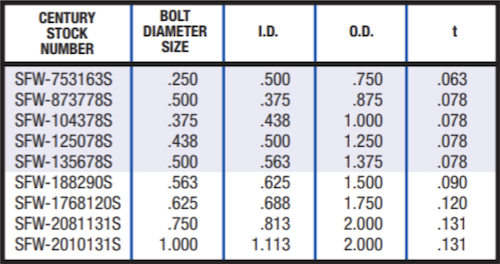 Custom Manufacturing
Custom Flat Washers
With over 30 facilities worldwide, access to standard and specialty materials, and decades of experience in manufacturing and engineering, MW has what it takes to produce the best parts for your application. We specialize in custom manufacturing, offering added value through design and prototyping assistance.
Send us your specs or configure a custom component. 
Request a Custom Quote
Flat Washer Manufacturing
All our washers are subject to exacting manufacturing and quality control standards because we know that you need a product that adds stability and strength. To ensure our washers are made to last, we heat-treat them to Rockwell C40-48 hardness.
Materials
Flat washers are generally produced using stainless steel; however, MW stocks a variety of industry-standard and specialty materials that are available at your request. Commonly requested metals used to produce washers are listed below:
Aluminum

Brass

Stainless Steel

Steel
Our Manufacturing Locations
Need a Large Order?
We can design and manufacture a component for your specific application in any quantity. For quantities over 1,000, please request a quote.
Request a Quote