Flange disc springs, or flange washers, are different from other Belleville washers and disc spring variations due to their unique shape, which includes a thin outside edge. In addition to structural differences, they tend to withstand extreme heat and pressure better than their alternatives.
Flange disc springs are precision-machined on all surfaces, with well-rounded edges. They can be used as a single disc spring or stacked on each end of a bolt, depending on estimated bolt elongation.
CAD files for stock and standard flange disc springs are available for download in MW OnDemand.
Flange Disc Springs Overview
There are many characteristics of flange disc springs that make them attractive for various industries and uses. Our disc springs are commonly found in high temperature or extreme pressure situations, pipe flanges, bolted joints, heavy and light bolting, dynamic functions, and bearing preloaded washer applications.
OD: + .000 / - 1.5% x OD (Designed for standard flange spot face diameter
ID: - .000 / + 1.5% ID

Thickness: ± 5% x nominal thickness shown
OH: is a reference and used to control the needed load
Load: ± 20% of nominal shown
HRC: 4-45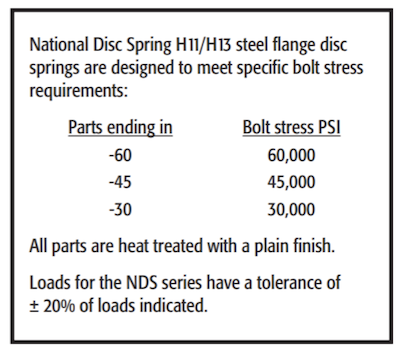 Custom Manufacturing
Custom Flange Disc Springs
All our disc springs are subject to exacting manufacturing and quality control standards. All discs are preset so that they will not significantly relax under load over time. MW also offers pre-stressed disc springs specifically sized for use with bolts.
Send us your specs or configure a custom component.
Request a Custom Quote
Flange Disc Springs Manufacturing & Configurations
Flange washers are manufactured to include a small outside diameter for a pairing bolt size. They are often manufactured using carbon steel or stainless steel; however, they can also be produced from a variety of temperature and corrosion-resistant materials.
Materials
MW stocks standard and specialty materials of all types. Below are some commonly requested materials used to manufacture flange disc springs.
Materials
Carbon Steel

Copper Alloys

Nickel & Cobalt Alloys

Stainless Steel
Available Certifications
Each of our locations maintains quality certifications and compliance according to the industry and clients they serve.
Certifications
Flange Disc Springs Configurations
Flange Disc Springs (NDS)
Flange disc springs (NDS) perform well in extreme conditions due to some key advantages, which are: maintaining bolt tension and gasket pressure around the flange and being able to automatically adjust for thermal variation, vibration, and mechanical shock stress.
Flange Disc Springs (FL / MFL)
Flange Disc Springs (FL / MFL) have elastic mechanical elements which make them perfect for pipe flange applications. Reactive power keeps the bolt joint tight under all conditions.
Other Belleville Washer and Disc Spring Products
Our Manufacturing Locations
Need a Large Order?
We can design and manufacture a component for your specific application in any quantity. For quantities over 1,000, please request a quote.
Request a Quote