W Series Flexible Beam Couplings
The W-Series combines the best features of the A-Series and the H-Series, with the convenience of metric dimensions and fasteners for your metric-based designs. The W-Series can be used in a wide range of applications from driving components with light torque requirements, such as encoders and tachometers (aluminum), to lead screws and pumps requiring greater torque (stainless steel).
W Series Flexible Beam Couplings Overview
Beam or Helical couplings are flexible shaft couplings designed to transmit torque between shafts. Due to their curved beam configurations which allow angular movement, they can accommodate misalignments and axial motion, unlike traditional rigid couplings.
Metric dimensions and fasteners
Metric and/or inch bores available
General-purpose
Relief over Standard Bores
Relief * Major and minor diameter shafts may enter the flexure area during operation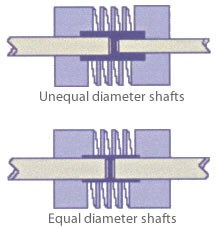 * Dark areas indicate relief within the coupling interior
Used for encoder/ resolver applications, low torque pump, lead screw, and various other applications.
Available in 7075-T6 aluminum alloy or 17-4 PH corrosion-resistant steel
Integral Clamp or Set Screw (2 at 120°)
5° angular
.25mm parallel offset
.25mm axial motion
Custom Manufacturing
Custom Beam Couplings
Custom beam couplings or Helical couplings offer many benefits including, choice of material composition, simplification of assembly, and customizable attachments and tolerances suited to your specific end-use. MW specializes in custom component manufacturing, providing you with the right features to ensure proper performance. Whether you need to eliminate endplay or spring, ensure zero backlash, need to increase torsional stiffness, or reduce windup, we can create the right custom coupling for your specialized need made to your exact specifications. Send us your specs or configure a part.
Request a Quote
Beam Coupling Manufacturing & Configurations
Manufacturing
Our W beam couplings are produced using either 7075-T6 Aluminum Alloy or 17-4 PH Corrosion Resistant Steel (CRES) and are sized with metric dimensions. Specialty materials and services are available for custom coupling production. Multiple attachment styles are available for added functionality. Torque range, bore ranges, operating temperatures, speed, and other performance factors will vary depending on the configuration chosen.
For more details on available coupling configurations, review the list below for a side-by-side comparison, view our Standard Coupling Comparison Guide below.
Standard Coupling Comparison Guide