DS Series Flexible Beam Couplings
The DS Series was designed for today's high-performance motion control systems. This Series incorporates two Helical® beams (double start) in each of two separate Helical® Flexures (double flexure), combining greater end-to-end rotational accuracy with radial flexibility in one design. Available only with integral clamp attachments, the DS series provides the high torsional stiffness and low inertia necessary for positioning devices, servo motors, and lead screws. The DS Series also provides you with substantial .010-inch parallel offset capability, reducing the need for high-precision alignment during assembly operations. It's your ticket to greater system accuracy and reliability.
DS Series Flexible Beam Couplings Overview
Beam or Helical couplings are flexible shaft couplings designed to transmit torque between shafts. Due to their curved beam configurations which allow angular movement, they can accommodate misalignments and axial motion, unlike traditional rigid couplings.
High torsional stiffness
Low radial loads
Parallel misalignment capability
Low inertia
Relief * Major and minor diameter shafts may enter the flexure area during operation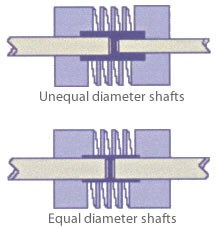 * Dark areas indicate relief within the coupling interior
For high-speed motion control systems, where fast response time is important. E.g., lead and ball screws, encoders/ resolvers, and anywhere high torsional stiffness is required.
Available only in 7075-T6 aluminum.
3° angular
.010 inch parallel offset
.008 inch axial motion
Custom Manufacturing
Custom Beam Couplings
Custom beam couplings or Helical couplings offer many benefits including, choice of material composition, simplification of assembly, and customizable attachments and tolerances suited to your specific end-use. MW specializes in custom component manufacturing, providing you with the right features to ensure proper performance. Whether you need to eliminate endplay or spring, ensure zero backlash, need to increase torsional stiffness, or reduce windup, we can create the right custom coupling for your specialized need made to your exact specifications. Send us your specs or configure a part.
Request a Quote
Beam Coupling Manufacturing & Configurations
Manufacturing
Our beam couplings are produced using either aluminum or stainless steel using various machining services; however, specialty materials and services are also available for custom components. Multiple attachment styles are also available for added functionality. Torque range, bore ranges, operating temperatures, speed, and other performance factors will vary depending on the configuration chosen.
For more details on available coupling configurations, review the list below for a side-by-side comparison, view our Standard Coupling Comparison Guide below.
Standard Coupling Comparison Guide