Micro Grommets, Rivets, & Eyelets
Micro Grommets, Micro Rivets & Micro Eyelets
MW Components is a specialty cold formed micro grommet, rivet, and eyelet manufacturer producing custom eyelets, custom grommets, or cold-headed sleeves with unusual features or with exotic materials. Some advantages of engaging with MW are that these cold headed eyelets are innately burrless, and the process is likewise exceptionally clean; there are no byproducts such as bits and pieces, and there's no waste of expensive materials.
Custom Manufacturing
Custom Micro-components
Working with MW, companies can obtain a wide variety of uncommon shapes, varying wall thicknesses, and other customization. As another example, we can cold form a counterbore within a sleeve shape, providing more strength and often better dimensional accuracy than stamping, milling, machining, hobbing, or chemical etching. Cold forming is also a better choice when parts are fabricated of exotic and high-cost alloys since there is no waste.

Request a custom quote and start the process of creating a custom micro grommet, micro eyelet, or other micro-component.
Request a Custom Quote
Examples of Custom Solutions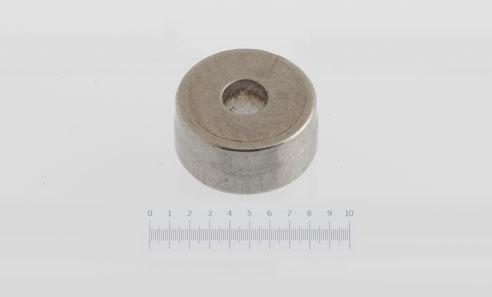 Manufacturing Method:
Multi-Die cold formed.
Manufactured as a complete part on proprietary MW designed & built cold form tooling.
Notable Features:
Double Diameter OD major & minor ODs.
The Center hole is a through-hole with a high surface finish.
Advantages:
Formed from wire with minor (planned) scrap.
Production speeds are high allowing for low production costs. Much faster than machining or grinding.
The inside diameter is punched and therefore there are no spiral drill lines that would create a leak path.
The top surface is flat with a good surface finish for wire bonding.
The rectangular feature is inexpensively cold-formed much more efficient than machining.
Material is suitable for welding (low carbon content).
Have Questions About Micro Components? 
If you have questions regarding micro components like micro rivets, micro eyelets, micro grommets or others, talk with our experts today and let us help you figure out the best solution to your cold-forming dilemma.
Our Manufacturing Locations