Metal Bellows: Key Enabling Technology for a Wide Range of Engineering Applications
Versatile metal bellows play an essential role in controlling pressure, vacuum and motion, and more in a broad array of machine components and assemblies across numerous industry sectors.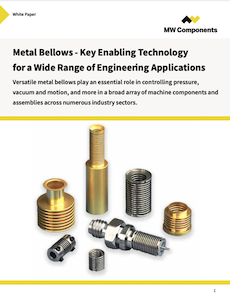 Metal bellows are flexible, spring-like, precision engineered components that are typically custom designed to perform a variety of engineering functions. Many bellows convert pressure, mechanical, vacuum, and temperature changes into linear or rotational motion. They can also be used in flexible electronic contact applications. Custom metal bellows can help solve complex engineering challenges in applications including:
Industrial Automation
Instrumentation
Aerospace
Medical Devices
Solar Power, Energy, Oil, and Gas
Military and Defense
Cryogenic
Semiconductor/Ultra-High Vacuum (UHV)
Agricultural
Learn more about bellows technology and how it could help your project in this white paper.