Is Your Supplier's Quality Certification Putting You at Risk?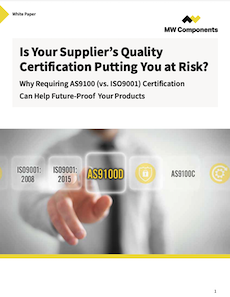 Suppliers with quality management certifications are often not only requested, but required for design approval. In the aerospace and defense industries, the most common certification is ISO9001. However, as the industry moves forward the more stringent AS9100 certification is being demanded more frequently.
Increasingly, aerospace-related designs that fail to meet a single quality requirement out of many are likely to be rejected outright. This could mean that the use of ISO9001-certified suppliers may result in designs being retroactively rejected, should the client's quality requirements change to AS9100.
Download the white paper to learn more about the differences between ISO9001 and AS9100, including how you can help protect your projects by selecting suppliers that offer the AS9100 certification.