Camera Probes Find Sharper Focus Using Precision Electroformed Metal Housing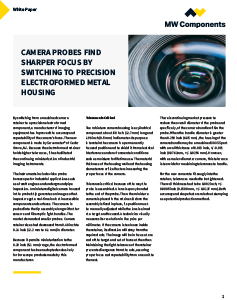 MW Components knows that precision is important when it comes to metal components and the applications where they're found. This is particularly true for professional photography and videography equipment, where a blurry image can mean the difference between a job well-done and a job re-done.
We have found that camera probes can achieve heightened focus when traditional camera housing is replaced with precision electroformed metal housing.
Download this concise and informative white paper to learn more.