Helical Springs for O-Ring Loaded U-Cup Seals
Helical Spring Replacements Overview
For many sealing applications, particularly those with little to no pressure and/or very low temperatures, a secondary seal energizer may be required. For standard u-cup type seals, this is often an elastomeric o-ring. These o-rings do a good job of energizing the u-cup but they are limited in their application range. Certain o-rings are good at high temperatures while others are better suited for low temperatures. The same can be said for chemical compatibility. One elastomeric compound can be very good in some fluids but not recommended in others. This can lead to configuration control nightmares and potentially placing a non-compatible seal into an application. Not to mention wasting time and money and potentially damaging customer relationships.
Ready to order? Click the link below to shop our OnDemand products.

Shop In-Stock Helical Springs
Helo-Rings and How to Install Them
To help make seal selection a little more mistake-proof, our Maudlin location has developed a new series of springs to directly replace the o-ring energizers used in u-cups. These springs are called Helo-Rings. Helo-Rings are a direct retrofit for the o-rings installed in u-cup type seals. They can be made from stainless steel or Elgiloy giving far greater temperature range and chemical compatibility than any single elastomer and since Helo-Rings are made in-house at our Maudlin location, price and quality are both carefully controlled.
To use a Helo-Ring, simply remove the o-ring from an existing u-cup seal and replace it with the appropriate Helo-Ring equivalent defined in this chart.
Need a custom size? Request a quote to start your order.
Request a Quote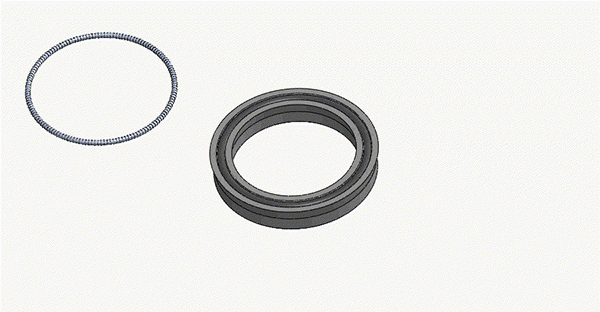 Have Questions?
Ask an MW expert for more details about helical springs for O-ring applications.