What are your shipping options?
Most of our orders ship via FedEx. You can select Ground, 2 Day, Express Saver, Standard Overnight, or Priority Overnight shipping from FedEx. We also offer the ability to use a shipping account of your choice if you have one already set up.

Can I order just one spring?

Yes, you can order as many springs as you need, whether that's one spring or a thousand springs. For very large orders, you may need to contact our team for details.

Are there any handling or small order charges?
Yes. Orders under $40 require a $15 handling fee. Orders over $40 do not have handling fees.

Do you accept credit cards?
Yes. We accept all major credit cards, including Visa, Mastercard, Amex and Discover.

Do you offer terms?
Yes, we offer N30 and other terms payment options. If you're interested in setting up your account with terms, please contact our customer service team for details via chat or by emailing sales@mwcomponents.com.

How can I check if my part is in stock?
You can determine if your part is in stock by visiting our online store. Navigate to the correct product type and filter by your desired part configuration, such as party type, material, and size. Select the part's SKU to bring up product details, where you will find the Inventory Status that specifies if your part is in stock.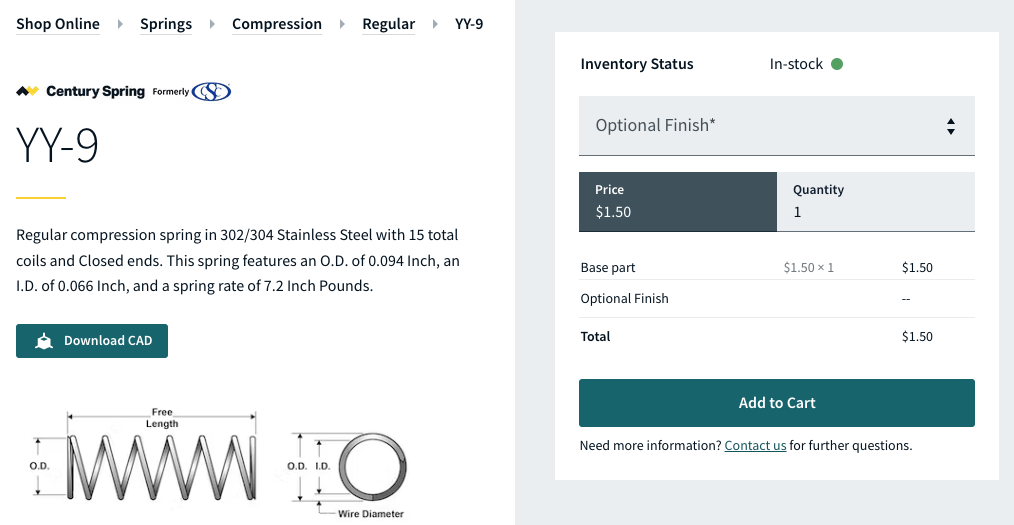 If you cannot find the product you are looking for, contact our sales and customer service team at sales@mwcomponents.com or by calling 704.837.0331.

Where are your parts made and where do they ship from?
Our parts are made in the United States at one of our 20+ locations across the country. Most stock spring orders are made at and shipped shipped from our Century Spring location in Commerce, CA, while other parts are from locations such as Houston, TX, Ormond Beach, FL, or Fairfield, NJ.

Do you offer passivation for stainless steel stock springs?
Yes, we offer passivation as an optional service on most of our stock springs, including stainless steel. To add passivation to your order, select "Passivation" in the Optional Finish section when you choose your product.

Do you charge for Certificate of Compliance on your stock springs?
Certificate of Compliance is provided on all stock springs at no additional cost. A complete list of our certifications can be found here.

How can I cancel an order?
Because many of our online orders are shipped the same day, we ask that you contact our customer service team for any modification or cancellation needs. Please contact our sales and customer service team at sales@mwcomponents.com or by calling 704.837.0331.

How can I return parts?
To begin a return for orders purchased directly from MW Components, please fill out this form or contact us with the information below to receive a to obtain a Return Goods Authorization (RGA/RMA) number.
First name*
Last name*
Street address*
City*
State*
Postal Code*
Email*
Phone number*
Purchased From*
MW Components
MW Components Dealer
Select Return Type*
All returns must be accompanied by your RGA/RMA number, the original sales receipt, and a statement containing the purchaser's name, address, and reason for the return. Restocking and transportation charges may incur may incur for returns. Please refer to our Return Policy for more information.

How do I make a purchase online?
To make a purchase online, visit our online store where you can search for products, download CADs, make purchases, and request quotes for standard parts. To make a purchase, follow the instructions below.
Click here to navigate to the online store or select 'Shop' in our top navigation
Browse through our wide range of products or search by keyword, product name, or part number to find the product(s) you are looking for. Parts that are in stock and available for purchase will have a shopping cart in the 'Buy' column. Parts that require a quote will have an envelope in the 'Buy' column
Select the product you are looking to purchase
Choose your product finish and quantity, then click 'Add to Cart'
Click the 'Cart' icon to review your product selection. From here you have the option to make changes to product quantities and finishes
Select 'Check Out' to make your final purchase. You can make a purchase by creating or signing into your online account, or you can check out as a guest
Enter your shipping, billing, and payment information to complete your order
Need more information? Contact us for further questions.

Do you offer CADs?
Yes. We offer free CAD downloads for tens of thousands of the product designs in our online store. CAD downloads are available for compression springs, extension springs, torsion springs, captive screws, retainers, and more. To download CADs, navigate to the shop page and find your desired part. Select the CAD icon and enter the email where you wish to receive your CAD file, then choose your preferred file format before downloading. Detailed instructions on downloading CADs are available here: CAD Models.