Flexible Coupling Solutions, From Tanks to Medical Devices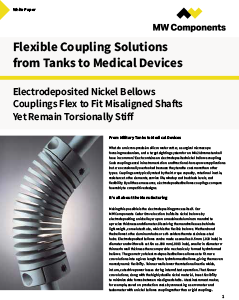 From Tanks and automobiles to medical devices, flexible couplings are useful in various industries and applications. This white paper focuses on electrodeposited nickel bellows-style couplings and how they can conform to fit shaft misalignments while still maintaining torsional stiffness necessary to perform their desired function.
Download the white paper to learn more about electrodeposited flexible bellows couplings, their preferred applications, and how this product might be the solution for your next project.